The third daughter of
Grand Duke Wilhelm IV
and
Grand Duchess Maria Ana
led a rather unconventional life that differed drastically from that of her sisters, guided by interests in botany and wildlife that eventually led her to Africa. Hilda Sophie Marie Adelaide Wilhelmine was born on February 15, 1897, at
Château de Berg
. She was named for her paternal aunt Hilda, Wilhelm's only surviving sibling and eventually the last Grand Duchess of Baden.
Although the six sisters were all quite close, Hilda had a lifelong bond with her next older sister, Charlotte. The two were separated in age by just over a year and both enjoyed relatively long lives, unlike their four less fortunate sisters. As a young child, she and Charlotte played many pranks together in Luxembourg. "Do as Hilda does" became a common saying among the children of the Grand Duchy. Hilda was also known as the most temperamental of her sisters - Hilda's "Braganza temper" inherited from her mother's Portuguese family meant she was very quick to anger.
Hilda as a young woman
Hilda was a lover of the outdoors from her youth. She was said to be rather athletic and enjoyed tennis in particular, preferring sports to court functions. Hilda also took great interest in science, especially botany and agriculture, interests she maintained throughout her life. Hilda's "tomboy" ways were said to be something of a concern to her family as her actions were interpreted as being a refusal to "grow up and assume the airs and dignity of a royal young lady."
During World War I, Hilda and her sisters were rumored to be of great interest as brides of their German occupants. Prince Sigismund of Prussia, nephew of Kaiser Wilhelm II, apparently took an interest in marrying Hilda. So great was her hatred of the idea that Hilda allegedly threatened to enter a convent to avoid marrying Sigismund. Whatever the case, Sigismund married a fellow German after the war and Hilda remained single for the time being.
During the abdication crisis of 1919, Hilda was briefly considered as the future Grand Duchess as her sister Charlotte's engagement to Prince Felix of Bourbon-Parma, a soldier in the Austro-Hungarian army, was unpopular. Hilda had no interest in the role and the next sister Antonia was considered equally unsuitable as she was engaged to a German.
Elisabeth
and Sophie, the fifth and sixth daughters, were thought to be too young to rule. So Charlotte became the Grand Duchess after all, and eventually a very popular one at that. From the start of her sister Charlotte's reign on January 14, 1919, until the birth of her nephew Prince Jean nearly two years later, Hilda the heir presumptive to the grand ducal throne.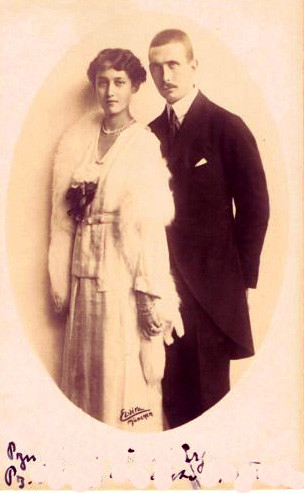 Hilda and Philipp Albrecht at the time of
their engagement
The fact that she was so close to the Luxembourg throne did play into Hilda's life once more a short while later. In 1920, Hilda met Duke Philipp Albrecht of Württemburg. Although he came from the junior and Catholic line of the family, Philipp Albrecht was expected to one day take the headship of the family as the senior line was about to die out in male line. It is thought that the couple found common ground in their shared interest in agriculture, as the Württemburg family fortune was invested heavily in farming and vineyards.
The couple became engaged the same year, but the engagement was cancelled soon afterward. As Hilda was also the heir to the Grand Duchy at the time, the prospect of a possible German consort so soon after World War I was deeply unpopular with the Luxembourgish public. The French Foreign Ministers also did not approve of the engagement. Luxembourg's economic union with France thus made the match doubly unacceptable. Hilda remained single once again.
Following the death of her sister Marie-Adelaide in 1924, Hilda was the only unmarried Luxembourgish princess. As a result, a great deal of interest was taken in Hilda's prospective husbands. Hilda's name was frequently mentioned as a possible spouse for the future King Edward VIII of the United Kingdom but as she was a Catholic, it's doubtful whether there ever were any actual consideration for the match. In the end Hilda found a husband without a royal title, but with whom she shared many intellectual interests and pursuits.
Prince Adolph of Schwarzenberg was a Czech noble from a very prominent and wealthy family. The Schwarzenbergs owned a vast amount of palaces, hunting lodges, and estates in different parts of the former Austro-Hungarian empire. The family also maintained a large and valuable art collection. As the oldest of eight children, Adolph was raised to manage the family's holdings as his primary occupation. After earning a law degree from the University of Prague and fighting in World War I, Adolph began managing the Schwarzenberg assets. He became the 10th Prince of Schwarzenberg upon his father's death in 1938.
Although it is unknown exactly when and how the couple met, it is likely that they too developed a relationship based on their shared passion for botany, wildlife, and the outdoors. As she was the only one of Grand Duchess Charlotte's younger sisters not to marry a German national, Hilda was able to have her wedding in Luxembourg. Hilda married Adolph on October 29, 1930, at Château de Berg. She was the last of her surviving sisters to marry by nearly a decade.
Adolph had taken a trip to Africa early in 1930 and adored the continent. The couple then decided to spend their honeymoon hunting there. Hilda and Adolph traveled to several different areas including Sudan and Congo, but Kenya was by far their favorite.
The former Mpala Farm, now Mpala Research Centre / Princeton University
Three years later, the couple acquired a 999 year lease on a farm in Laikipia, Kenya from the Wilmots, a British family. Hilda and Adolph named the estate Mpala Farm. The couple put a great deal of work into the property, overseeing the construction of a dam, a powerhouse, an irrigation system, and a bridge (now known as The Princess Hilda Bridge) connecting the estate to the nearest town. Hilda and Adolph also spent considerable time at Mpala Farm with their relatives, including their large group of nieces and nephews. Although Hilda and Adolph did not have children of their own, they were a devoted aunt and uncle.
Adolph and Hilda maintained a steadfast anti-Nazi stance during the rise of the Third Reich. Adolph refused insistence from the Third Reich to replace Czech workers at his farms with ethnic Germans; he also welcomed Jewish patrons to the gardens of his palace in Vienna whereas they were banned from most other parks and leisure establishments. Adolph was bold enough to put up signs that read "Jews warmly welcome" in response to the "Jews unwelcome" signs in most other locations. Adolph also refused to receive Adolf Hitler at any of his homes. All of this effectively made Hilda and Adolph enemies of the state.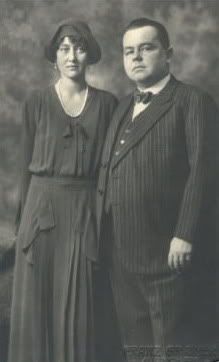 Hilda and Adolph in the 1930s
Around that time, Adolph had gotten into an argument with a Prague banker over the German Endsieg (the ultimate victory, a part of Nazi ideology that no matter how great the losses, the Third Reich would ultimately prevail and that a breakdown of allegiance to it could not be tolerated), with Adolph claiming that the Germans would certainly lose the war. The banker reported the argument to the Nazi authorities, who made attempts to arrest Adolph. In August 1940, all his properties including 55,000 hectares of land, various businesses, multiple castles and the family's art collection were seized. The couple left occupied Czechoslovakia for their villa in Bordighera, Italy.
After a short stay in Bordighera, Adolph and Hilda spent some time at another Schwarzenberg property in Switzerland. The two joined Grand Duchess Charlotte and her family in the United States, arriving in New York on April 17, 1941, aboard the Atlantic Clipper. The couple traveled as Swiss nationals and insisted on dropping their princely titles to travel as ordinary citizens.
The Schwarzenbergs stayed in the United States for over four years. The two owned Coaching Lane Estates, a 2,000 acre property near Brownsville, Vermont. In July 1942, while the couple were living in the US, the former Grand Duchess Maria Ana passed away. Both Hilda and Charlotte were by their mother's side when she died.
Hilda and Adolph returned to Europe in October 1945, flying once again on the Atlantic Clipper out of New York. However, Adolph never got his Czech properties back. After courts decided that the Benes decrees could not be applied to him, the Lex Schwarzenberg was passed in 1947 that seized all properties from the family by the Communists. Hilda and Adolph spent as much time as they could at their beloved Mpala Farm, visiting for the last time at Christmas 1949.
Adolph died of a heart attack in February 1950 while staying at their villa in Bordighera, Italy, after suffering from ill health for some time. After her husband's death, Hilda moved back to Luxembourg where she lived surrounded by her sister Charlotte's family. She sold Mpala Farm two years later.
Hilda died on September 8, 1979, at Château de Berg, the same place where she began her life. In the years following her death, Mpala Farm became a research and wildlife conservation center, which it remains to this day.