Although we've referred to Princess Gina of Liechtenstein a few times here on Luxarazzi when discussing her husband and children, we haven't yet profiled her in detail. Gina made a considerable impact on her adopted country with her friendly, outgoing personality and generous spirit. Today we'll spend some time getting to know more about Princess Gina, the mother of ruling Prince Hans-Adam and founder of Liechtenstein's largest charitable organization.
Born in Graz, Austria, on October 24, 1921, Georgina Norberta Johanna Franziska Antonie Marie Raphaela von Wilczek was the first child of Count Ferdinand von Wilczek and Countess Norbertine (Nora)
Kinsky von Wchinitz und Tettau
. Known throughout her life as Gina, she was by birth a member of the Wilczek family, a branch of ancient Silesian nobility. The Wilczeks had long been associated with the Liechtenstein princely family. One of its most famous members was Gina's great-grandfather Johann Nepomuk, a well-known polar explorer and art collector. Johann was among the members of a commission formed to oversee the restoration of
Schloss Vaduz
between 1904 and 1914, which would later be his great-granddaughter's home.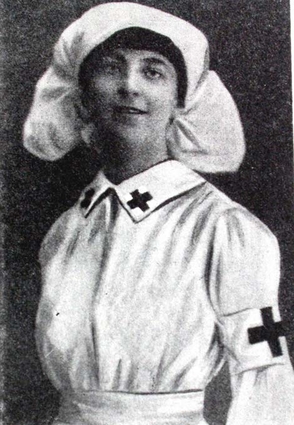 Countess Nora

Kinsky von Wchinitz und Tettau, Gina's mother
Count Ferdinand von Wilczek, Gina's father
Gina's mother Nora gained prominence in her own right in the years before her marriage. Nora was a former Red Cross nurse who founded a hospital on the family estate for wounded Austro-Hungarian soldiers at the start of World War I. Nora was later called to be part of a delegation sent by the Austrian war ministry to inspect the conditions of Siberian prisoner of war camps in 1916, observations on which she recorded in a diary. A clever woman, Nora wrote her diary alternately in French, German, Hungarian, and Czech in case the book got into the wrong hands during her tour. Avoiding earlier proposals of marriage from other suitors, Nora married her long-time fiancé Ferdinand in 1921. She died unexpectedly in March 1923 after giving birth to a stillborn second child. Gina remained close to her father until his own death in 1977.
Gina was educated in Vienna at the
Gymnasium Sacré Coeur
, a private Catholic school. She later attended a school run by the Congregation of Jesus sisters in Rome. Gina first studied art history and applied arts, then worked as a fashion illustrator for a time before continuing her education at the University of Vienna. She studied languages (French, Italian and English) at the university, eventually earning her diploma as an interpreter.
Gina is believed to have first met
Franz Josef
, her third cousin, in early 1942. The two shared a deep love of art, and began seeing more of one another after their initial meeting. Despite a fifteen year age difference, the couple's friendship eventually turned to love. Gina once shared a touching story that during their courtship, Franz Josef gave her a box of Swiss chocolates instead of jewelry, as the chocolates were far more difficult to obtain at the time.
Gina and Franz Josef on their wedding day
The engagement between 21-year-old Gina and 36-year-old Franz Josef was announced in Vaduz on December 30, 1942. The couple married at noon on March 7, 1943, at the Cathedral of St. Florin in Vaduz. Swiss Bishop Christian Caminata conducted the religious service with assistance from the parish clergy. The ceremony was very simple, with no military presence, but with many well-wishers from the general public. The wedding was particularly special for the people of Liechtenstein, as it was the first such ceremony of a ruling prince to take place in the principality. In accordance with the principality's philatelic roots, three stamps were issued to commemorate the occasion. After the wedding, the couple took a few weeks to visit all of the eleven communes of Liechtenstein.
Franz Josef and Gina became parents to their first child, current reigning Prince Hans-Adam II, on February 14, 1945. Four other children followed: Philipp Erasmus (1946- ), Nikolaus (1947- ), Norberta (known as Nora) (1950- ) and Franz Josef Wenzeslaus (known as Wenzel) (1962-1991).
Gina, Franz Josef, and their four oldest children
Complimenting her husband's shyer and more reserved manner, Gina was known as being very energetic and outgoing, qualities which served her well as the first lady of Liechtenstein. Franz Josef's desires to make both the state and the princely family more accessible to the public were assisted by Gina's openness and practical nature. During a gasoline shortage in Liechtenstein in World War II, it came as no surprise to the public to see their undaunted Princess travel to Vaduz by bicycle to do her shopping.
Although Gina did not grow up with her mother, Nora's legacy was to leave a lasting impact on her daughter. During the last days of World War II, Liechtenstein, a neutral country throughout the war, was experiencing a massive number of refugees entering the Principality at Schaanwald. Following the lead of her late mother, Gina took the initiative to establish the Liechtenstein Red Cross organization as a means of providing clothing, food, shelter, and other basic needs to those displaced by war. The organization was officially founded on April 30, 1945.

In succeeding decades the Liechtenstein Red Cross continued to help refugees entering Liechtenstein. The organization assisted those fleeing Hungary following the 1956 revolution, as well as Czechoslovakian citizens who arrived after the 1968 Soviet invasion and even a group from Vietnam who took refuge in the country in 1979.
Gina remained president of the Liechtenstein Red Cross from the time of its inception until 1985, when she handed over the leadership position to her daughter-in-law Marie. A stamp was issued the same year by the Liechtenstein government depicting Gina at the Austrian-Liechtenstein border welcoming refugees into the country. Two years after her retirement, the International Red Cross awarded Gina with the Henri Dunant Medal, the highest award given by the organization to those who served with distinguished service. With a membership of over 1,200, the Liechtenstein Red Cross is the largest organization of any kind in the principality.

Gina's concern for the less fortunate in Liechtenstein extended beyond the creation of the country's Red Cross. In Liechtenstein, she also assisted in the foundation of the Gamander children's home and educational institution for mentally challenged children. Gina also served for a time as the President of the Society for Orthopedic Aid, and helped organize a home care system for Liechtenstein's elderly residents. In her later years, Gina organized delivery of food aid during the famine in Ethiopia.
Gina and Franz Josef in their later years
In 1976, Gina's father Ferdinand permitted the publication of his late wife's diaries written during her time in Siberia. Gina herself contributed the foreword to the publication titled
Russisches Tagebuch: 1916-1918
(Russian Diaries). Thirty years later, a documentary based on the diaries was made chronicling Nora's experiences during World War I.
Gina made her last known public appearance at the July 29, 1989, wedding of Prince Gundakar of Liechtenstein (a distant cousin to Franz Josef) to Princess Marie of Orleans, a daughter of Henri, Count of Paris. She died less than a week before her 68th birthday on October 18, 1989, in Grabs, Switzerland, after suffering from what was believed to be cancer. Franz Josef, himself in poor health, collapsed at his wife's deathbed.

Princess Gina had once described her relationship with her husband as the following, "My husband and I have become one; both of us believes that we can't be without the other." Gina was to be sadly correct in this statement, as her death preceded that of Franz Josef by less than a month. Gina and Franz Josef are buried together in the Cathedral of St. Florin in Vaduz. Former International Red Cross President Alexandre Hay attended Gina's funeral.

A trail in Liechtenstein commemorates Gina's life and love of her adopted homeland. The Princess Gina Trail is a 12 km long loop trail through the picturesque Valüna Valley and offers views of Liechtenstein, Switzerland, and Austria. A plaque can be found along the trail honoring Gina's charitable contributions to Liechtenstein and the world.